Life is a journey, so it is always hard to decide where to begin…
…let's look at the basics first:
My name is Rod Collier.
I am an architect living in Indianapolis, Indiana.
I am one of the owners of Rottmann Collier Architects, an Indianapolis-based architecture and interior design firm.
While I am only 46 years old in this lifetime, I'm usually the oldest soul in the room. I'm not just old… …I'm ancient.
My life is filled with love, laughter, and a whole lot of travel. Yes, I travel as much as possible. I've realized that life is too short to not do something, so I take every chance to be surrounded by my dear husband, family, and friends as I travel near and far.
I used to keep a written journal, but decided in 2017 to start this website as a personal way to chronicle the winding path of my life and share my joys and sorrows.
Although it was initially intended to be a private introspective diary for just me, I made it public when I heard from several others that they enjoy walking with me along the way.
Like everyone, I have my ups and my downs, but I never hide the fact that I wear my heart on my sleeve.
Just keep scrolling down to see where I am or what I am doing; I hope you enjoy the journey with me.
[the most recent adventure is at the top, but keep scrolling down to see where I have been]
July has been HOT! John and I kicked of July with a wonderful dinner and fireworks view of the Indianapolis skyline as seen from the penthouse of our dear friends Jamie and Chris at Riley Tower. It was spectacular as usual. We then departed for a couple days up on Big Long Lake at our friends Scott and Mike- what a lovely relaxing time… Our friend Leonard came down for a nice Bastille Day Dinner at the amazing Tinker Street Restaurant at the end of our block. Delish! Very quickly, the month got dirty! As most of you know, I have been very fortunate to have my architectural firm be the architects for HGTV's Good Bones television show. My business partner, Todd Rottmann, and I are often part of their demolition crew and we have so much fun with Karen, Mina, Thadeus, Austin, Cory, and the gang. We have had several demolition filmings for Season 5 that will be out next year. Keep watching the current Season 4 too- Todd and I will me making some appearances on the upcoming shows too!
Europe 2019 Begins
Our dear friend, Leonard, hosted John and I (and a few friends) at a villa in Umbria, Italy that he rented for his birthday! We flew into Rome on May 25th and met up with Leonard, Randy, Jeremy, and Scott for an amazing week in Monteleone d'Orvieto. It was so beautiful there. We then drove down to the Amalfi Coast for another week before we wrapped up our holiday in Paris. Click the link to see the highlights from the entire trip.
John and I took a quick trip down to Nashville, Tennessee in the middle of May. I had to be down there once again for work, but John was finally able to go with me this time. It was his first trip to Nashville, so we stayed right downtown and walked A LOT!!! We even were able to squeeze in a surprise concert of KC and the Sunshine Band. The only bad thing about this trip was that the Dream Hotel valet service wrecked my car! Yep, the valet scraped the side of my car down a column and wall (and did not say anything to their manager).
If you are going to Nashville, DO NOT STAY AT THE DREAM HOTEL OR USE THEIR CAR VALET SERVICE!
June is not only pride month, but also the busiest month for marriage! We went to our first Bachelor+Bachelor party. What fun with such great friends- Congrats to Sean and Joe…
John wanted a big party for his 50th birthday, so we delivered! about 100 people filled our home in celebration of John… He was surrounded by dear friends and family for the week before and after his birthday on April 28th. Becka was the first to arrive on the 21st of April. We were able to squeeze in a Broadway show mid-week. Waitress is wonderful in case you have not seen it yet. GO! It is very good. We had a couple Canadian friends, Penny and Heather, arrive for the party. John's gorgeous sister Kristi also was able to come over from Missouri to spend time with the Birthday boy. 6 giant bottles of vodka, 36 bottles of red wine, 12 bottles of white wine, and several candles later- I was exhausted [but still did a nightcap with the Canadian Ladies and Kristi at 5:00 AM]! What a party…
Valda vere
Saying goodbye to a Matriarch of a giant family is never easy, but unfortunately there comes a time when it is necessary.
Valda Vere Fruit Collier married Charlie Collier. They had 8 children. Those 8 children had 26 grandchildren. Those 26 grandchildren had 60 great-grandchildren. Yes, you read that correctly.
With spouses, my grandparents had 134 stockings hanging on her very large fireplace for Christmas of 2018.
We lost Grandpa in 2014. On April 4th, 2019, Grandma transitioned out of this life as well. She and Grandpa are together again.
Guilty
From my April 2nd, 2019 facebook post:
I'm feeling guilty.

I'm feeling guilty because I'm not there with my family today to say goodbye to my loving grandma.

I'm feeling guilty because I said goodbye last week while we still had time. During an unplanned visit to grandma's house, I had the privilege of getting alone time with her and my aunt Marsha in front of the fireplace. Just us-no distractions. I was able to sit right in front of her and hold her hand as I gazed upon that face that carries a thousand stories. I was able to truly feel her.

I'm feeling guilty because I told grandma that afternoon that I was going from her house over to the cemetery to sit with grandpa too. You see, I had missed stopping to see him on his birthday; I was missing him. When I told her I was going to see him, I could see that she was missing him too. She lovingly reminded me that he just had his 99th birthday. Although I could feel their years together, I could feel their years apart even more.

I'm feeling guilty because when I was tearfully chatting while sitting on the ground in front of grandpa's tombstone, I decided to be very candid with him. I quietly and with great trepidation said out loud, "grandpa, I think it's time for you to come get grandma. She's ready for you." Grandma had told me previously that she was ready to go, but I think she's been hanging on because she doesn't know how to say goodbye to this monstrously large (and loving) family that she and grandpa created.

We love her to the ends of the earth.

I'm feeling guilty because I know she and grandpa are going to be together again and I'm not sad. Don't get me wrong-I've cried a lot today, but I'm not sad. My tears are joy. I'm so sad for my dad, mom, sisters, aunts, uncles, cousins, nieces, nephews... all 134 stockings are hanging their heads today. To each of you I say, "Don't be sad."

Realize the glorious beauty that this little firecracker brought to our lives (by bringing us into the world).

I love you grandma. Sleep well and give grandpa a great big hug (one of those really painful back smackers you used to give us). God I miss that fear of your hug!!! It's ok to say goodbye and let go. Safe travels.
Dreamweaving a 2nd goodbye…
Most people don't know that in 2014 when grandpa left us, he came to me in a dream to say goodbye. He gently nudged me into clarity while dreaming. I treasured that moment of seeing him. It gave me closure. That moment also makes me talk to grandpa quite often.
I had a couple Seven7s the night Grandma was leaving us to feel closer to grandpa (and I encouraged him once again to come get grandma).
Therefore, as time with grandma was drawing to a close that night, I was anxious and hopeful that she would visit on her way out too. I fell asleep with a wish to see her. It wasn't grandma that woke me in my dream; once again, grandpa gently nudged me into clarity. While I was so happy to see him again, I was briefly sad to not see grandma. Until she popped her beaming little face around his shoulder and made a similar face to the photo above. She was so full of life. There wasn't even a wrinkle on her face. She wrapped her arms around grandpa from behind and squeezed him tight. No words were said. They weren't needed. When they turned to leave, she had a skip in her step- it was good to see her walking again.
I felt so at peace as they faded from clarity.
It's funny because in my dream they are both so young. Younger than when I can remember. Grandpa looks about the age in the photo of him fishing. I could still smell his pipe as the dream lifted...
I hadn't checked my phone that morning when John cuddled up behind me to make sure I was ok. He had already read a post that grandma had passed in the night.
I already knew she had transitioned, but loved that he wanted to comfort me. Grandma and grandpa had already comforted me too.
The Collier Crew loves you both- thank you for making us who we are.
March is for me. It's me, me, me. Not really, but I do love the month of March for several reasons. Spring is in the air, wigs are on, and we have our lovely friends visiting us from Canada.
We kicked off the month with Rob and Johnny's Wiggin' Out party. Oh what fun.
By mid-month, we flew Becka up for a great visit and to surprise the group of Ladies that were going to be visiting us from Canada for my birthday. A little back story… After meeting Mary Ann, Rosemarie, Penny, Teresa, Heather, and Krista at the airport in Zurich, Switzerland in 2015, we spent 8 lovely days together on a river cruise down the Rhine River. They became family. John's dad, David, left us just one year ago. Becka flew up on March 13th- David's birthday and the anniversary of the day he left us. We now refer to the day as "David Day."
I had a great birthday weekend.
Yes, the Canadians brought me ketchup-flavored potato chips.
February is the shortest month, but this February 2019 flew by way too quickly. Between hanging out with friends, cooking, and the occasional unicorn in the office, it was a usual month- just really fast.
January 2019
Scottsdale and the first of many fifties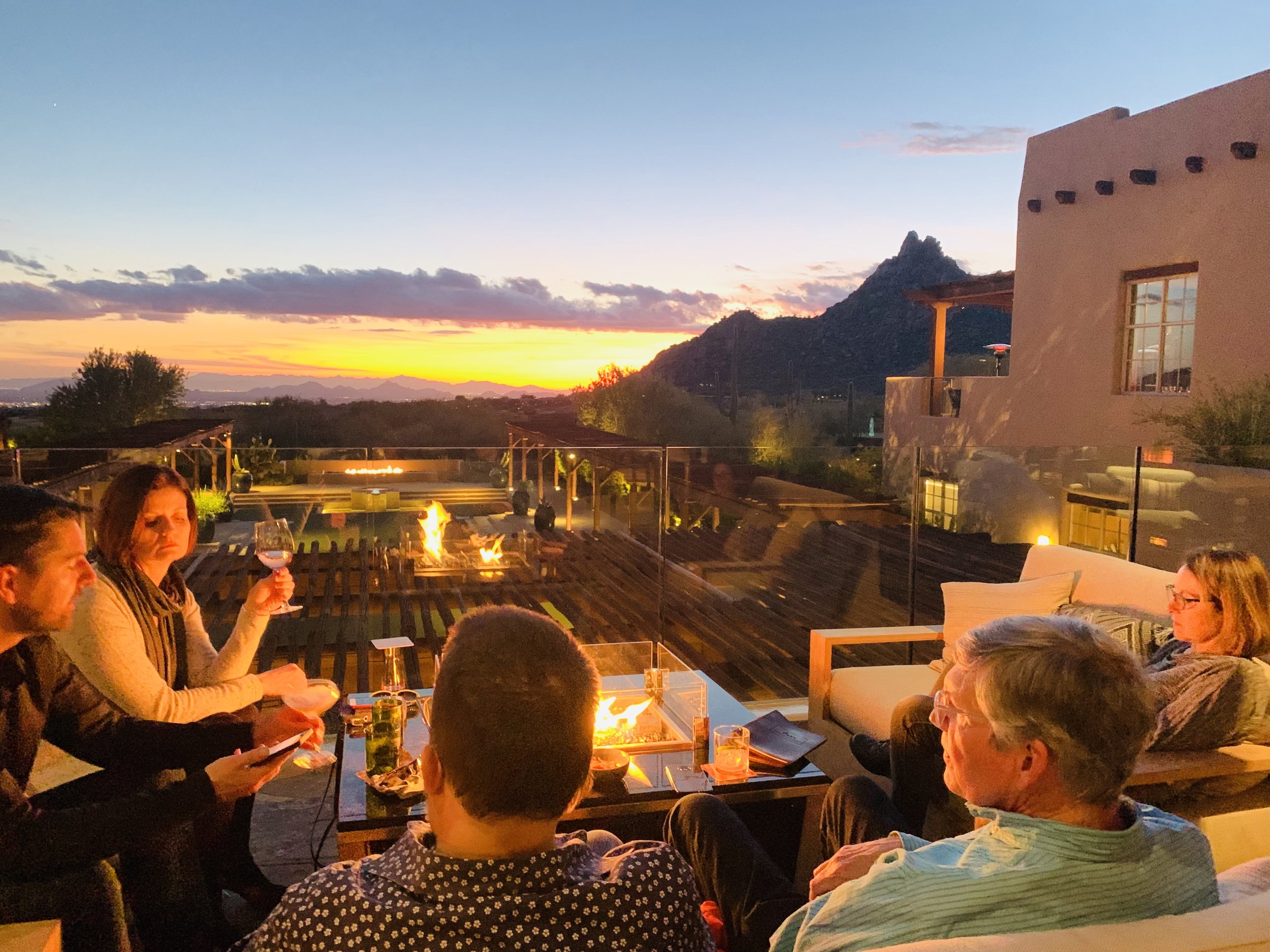 John and I started off the New Year with a bang. Literally, someone popped an explosion of streamers above my head at the bar.
It took me a couple weeks to get it all done, but the Holiday decorations were finally all hung with care. The second tree returned this year, so the house once again was balanced with a tree at each end.
DEC' 18
12
WINESCHOOL
was a success! We had an amazing group sitting at the long table while we sampled several (and several more) wines from Italy. Letizia Ciappi, niece of winemaker Pierluigi at the Tenuta Torciano Winery in Italy, taught us all about great Tuscan wine. I may have ordered a few cases along the way (and I don't remember going to bed that evening!!!).
DEC' 18
29
One more trip to Winterlights at Newfields with Susan, Jen, and Debbie! This time with a new hat… …The tree on my head seems to blend in with the landscape with so many lights.
I think I have become a Winterlights junkie. In the month of November, I went to Winterlights 4 times! It never gets old!!!
I flew home from Florida late on October 30th. We did Halloween at the house on the 31st. John and I then got up at 3:45 in the morning on November 1st and flew to Palm Springs! Our dear friends Jamie and Chris have a beautiful 2nd home there, so we went out for a visit (and it just happened to be PRIDE WEEKEND)!
I love Fall. This year, October started out very warm, but by mid-month we had cooled to the typical warm weather I love. Work has been absolutely crazy since my return from Europe, but my team in the office is amazing! The darker mornings make it more difficult to wake up, but at least I get to wear sweaters!!!
John and I joined several friends for the first Halloween Costume party of the season! I love dressing up in a costume!!!
I am so humbled and honored to have been able to travel to Florida at the end of October to help a beautiful friend finish her transformation… …it made me realize that we are able to choose our family. She is my family and I am so happy to have been able to help. Her body now fits.
I also got to see Uncle Tom while in Fort Lauderdale. TOTAL BONUS! It is always so great to see him.
We kicked off the first weekend of October with Susan, JoAnita, and Jen from Richmond coming into town for a little Jazz and Blues at the Slippery Noodle in downtown Indianapolis. It was actually my maiden voyage to the oldest bar in Indiana. What a fun night of music and friendship.
The next night John and I made a trip up to the Dinner Dance in Fort Wayne. It was the 30th anniversary of this amazing LGBTQ event- I have been going since 1994!!! The main headliner for the evening was the absolutely hilarious Leslie Jordan [aka Beverley Leslie from the television show Will and Grace].
August' 18
10
John and I love going to visit our friends Jeremy and Scott in Columbus, Ohio. They are such amazing hosts [and we tend to drink just a few bottles of wine while we are there- ok, more than a few… …way more than a few]. Leonard, Randy, John, and I were hosted to a wonderful home-cooked meal at their condo overlooking the city. Thanks Jeremy and Scott!
I wrapped up August with a trip to Europe with our dear friend Susan. John had just begun his Master's program at Herron School of Art and Design at IUPUI, so he was unable to join me on the European adventure.
First off, I will just say that I LOVE LOVE LOVE the new nonstop flight from Indy to Paris! Wow, what a difference it makes to fly direct. We were basically cramming 3 trips into one.Susan and I were joined for part of the trip by her friends, Jen and Jo from Richmond, Indiana. We did a Seine River cruise on the new and youthful U by Uniworld.
The first part of our trip was a river cruise, second part was a lovely trip out to Reims and visits to the Champagne region of France. Susan and I then took a train ride from Reims down to Santa Margherita Ligure in the Cinque Terre region of Italy.
SEPT' 18
8
My parents were high school sweethearts. When my dad returned from 2 years of service in the Army, my parents were married on July 5th, 1968. WOW! 50 YEARS OF LOVE!!!
My parents are my greatest inspiration and role models. Growing up, I never thought I would be able to have the love and commitment that they have myself. While I proved that wrong, they still remain an absolute driving force in my life. I am who I am because of the two of them.
I love you MOM AND DAD!!!
Once again, June just is packed with events and festivals. I love it!
We started out June while finishing our California Wine buying trip, but quickly jumped into the full swing of June. We joined Jamie and Chris for a day by the pool downtown with cocktails. Then, just days later, we had more cocktails as Pride officially kicked off at Greg's Bar (with a festive round of Drag Race). John imbibed a bit more than normal and did't quite remember the walk home. We jumped right back into cocktails the next night with a viewing of "but I'm a cheerleader" movie at the IMA. Unfortunately, John had to depart for Chicago, while I went with Greg and friends to Indianapolis' Pride Parade. Oh what fun!
Happy Mother's Day
I am a momma's boy- tried and true. I love my family so much, and everyone knows that I will do anything for my mom and dad. They are such an inspiration for me- they are approaching their 50th anniversary with continued love and laughter [with their 4 children and 7 grandchildren].
JOHN GRADUATED!!! He not only received his degree, but he did it "with dinstiction". I am so extremely proud of this amazing man. He had the strength and courage to get a college degree starting in his mid-forties. He was a mentor and inspiration for those young kids in his classes. He worked so hard and I am so happy for him.
The annual wine buying trip to California was fantastic this year. While Leonard, Randy, and Jeremy had previously toured the Central wine region around Paso Robles several years ago without me, they were so kind to return with a few extras this year! John and I joined Scott and Jeremy, Leonard, and Randy for an amazing wine tour. They had been accompanied on their previous trip with a wine mascot- the adventurous "Bendable Posable Jesus." The Notorious BPJ once again jumped at the chance to turn water into wine with the boys...
Leonard's planning provided us an incredible rental house and fabulous restaurants as usual! WOW. just WOW.
April started with the Collier Crew staying in a couple cabins along the Ohio River. The much needed solitude and relaxation did both John and I a world of good. We hiked the Hoosier National Park that was connected to our cabin along the river.
David Strachan
March 13, 1941 - March 13, 2018
To honor David's request for "no funeral and no memorial", we instead hosted the Strachan Clan for a Celebration of Life. For the first time in a very long time, we gathered all of the family together in our house.
In preparation of our Celebration of Life for David at the house, our dear friend (and neighbor) Greg surprised us with fresh new flowers/plants in the front planters on the porch. Thanks Greg!
When David and Becka moved to Florida last September, we inherited several boxes of old photos... ...John and I went through those memories a few days before everyone arrived at our house. We found photos that no one in the family had ever seen before. It was amazing. We also took some new photos while the family was together to create our own memories and help say goodbye to David.
You are forever in our hearts, David. WE love and miss you...
March has always been my favorite month because of my birthday, but it has been hard this year. On March 13th, John lost his father, David Strachan. March 13th was also David's 77th birthday. Words cannot convey the loss we feel. My heart breaks for Becka, Scott+Jennifer, Kristi+David, John, Jason+Kelsey, Dana, Alec, Bentley, and Casey. I am so honored to be a part of the Strachan Clan.
We love you David.
John and I were in Mexico when David passed away. We were with several close friends, so everyone worked very hard to help keep us distracted and entertained. Thank you to Chris, Jamie, Brad, and Mark for keeping us going during a rough week. You made us laugh when needed and allowed us to cry when necessary.
The Grand Mayan in Riviera Maya [south of Cancun] is lush and lavish. We were able to relax by the pools and ocean, take a trip to Mayan ruins, swim in a cenote, and even experience CIrque Du Soleil's Joya show [on my birthday].
Despite the fact that everyone seems to think I travel all the time, I actually don't take as much vacation time as I used to. John and I have committed to getting out there and seeing the world while we still can, so I jump at any chance to travel somewhere new! This month, our New Jersey Street Foodie Group made the trek to the food mecca of New Orleans. It was amazing... ...and I am sure I gained back at least 5 pounds...
New Orleans certainly is a city of great beauty, wonderful food, jazzy blues, and some eccentric characters. While I loved strolling the gorgeous small streets of the French Quarter, I did not really enjoy Bourbon Street. It was a bit "too much all at once" for my own personal tastes. I will certainly go back... ...the food alone merits a repeat trip.
January 2018
Fort Lauderdale, Fort Myers, and Scottsdale
John and I had a short layover in Fort Lauderdale to visit Uncle Tom for the new year. We love seeing Unk and spending some time in the warmth... ...unfortunately, there was only one day of warmth on the beach before Florida descended into the cold depths of a freak winter. WE WORE OUR WINTER COATS THE ENTIRE TRIP!
Our time in Fort Lauderdale and Fort Myers went by way too quickly. It was great seeing David and Becka, Scott and Jenny, Dana (and boyfriend, Nate), Kristi and David, and of course our youngest nephew Casey!!!
A quick overnight trip down to Nashville, TN for business was a welcome surprise. My work on several coffee shops continues in this amazing city!!!
January travels continued with a quick trip out to visit our close neighbors. Fred and Susan have spent a month or two in Arizona for the past few years, but they took the plunge and purchased a condo right before our visit! We loved our hikes and the furniture shopping (for the new condo), but the highlight was our first visit to Frank Lloyd Wright's Taliesin West. Wow. Just WOW.
The start of the holiday season just would not be the same without "dinner in the loft" at Wally and Ron's cabin in the woods near Angola, Indiana.
Decorating for the holidays is always a treat. This year I had a bit more difficulty since I was still recovering from my surgery. In lieu of the two 10 foot trees that we normally decorate on the first floor, John appeased my request to only do one tree.
I always take such joy in putting up my Great Grandmother's ceramic tree; I am honored to have it in my home. Family is everything to both John and me.
For the first time, we had a fun office to decorate for the holidays. I went all out with 5 trees and several decorative accents.
Did I mention how much I love my coworkers? We are a fun bunch! Every day is a joy and pleasure to work with this fine team (and group of friends). Thanks!
Part of the Strachan Clan visited on December 18th-20th. We took a quick tour through the Indianapolis Motor Speedway light show. Psst, Winterlights is WAY BETTER!
Christmas Day just would not be the same without lunch at Grandma's house. The mantle is running out of room, but it grew by 4 stockings this year. Grandma also has a tree adorned with photos of all 80+ of her grandchildren and great-grandchildren.
DEC' 17
25
Saying goodbye to Pearl Hailey was easier than I thought it would be. Although she was only 6 years old, my Ford Edge was replaced with the bright copper colored Pfennig [German for Penny]. My new 2018 GLA250 with all the bells and whistles arrived safe and sound from Germany. Having waited over 3 months for her arrival, she stole my heart and made me forget I ever even had a Ford.
I was so honored to be asked by Tinker Street Restaurant to help raise funds for The American Red Cross California Wildfire Relief by hosting a private dinner at their restaurant. Over the course of 5 evenings, Peter George and Tom Main raised over $40,000.
Winterlights at Newfields at the IMA had it's inaugural opening on November 14th. John had class, so Claire joined me for the preview evening of what is sure to become my favorite holiday tradition. 1.6 million lights are magical.
After years of dealing with an umbilical hernia, I had surgery on the 17th. While in surgery, they discovered a second tear. Recovery was rough, but my devoted husband spoiled and nurtured me back to health just in time for Thanksgiving at Grandma Collier's house.
John and I also joined Brad and Mark to carry on the tradition of viewing the Monument Circle Tree lighting in downtown Indianapolis.
October brought an end to the Summer of Destination Weddings with the marriage of our niece, Taylor Olivia, to Chris on the quaint island community of Mackinac Island. After picking up Claire at IUPUI, we had a great time on the long drive up to the top of Michigan. A very quick ferry ride over to the island, gave us plenty of time for the Collier Family to hike around and explore the island that we all grew up loving. Taylor had said as a little girl that she would get married in that Little Stone Church on Mackinac Island- she did. It was beautiful.
Everyone knows that Halloween is my Christmas. I love it. The Collier Bash was themed as "Freak Show" this year and it certainly did not have a shortage of Freaks. With twins as Siamese Twins, tattooed ladies (sisters), and plenty of freaks, I made costumes for both of us. John was a target board for a knife thrower and I was half-goat/half man. Not settling for just one night of fun, Rottmann Collier Architects also had our employees dress up for the holiday- I pulled out the Scottish Kilt! For the first time in the 11 years that John and I have lived in the house, we ran out of candy... ...our little house in the hood is now one of the most desireable places to live in the city. Children (and parents) were dressed up in droves. At least I had wine to make me forget how cold that kilt was while standing on the porch for a couple hours.
John and I had so much fun with Fred and Susan in Pennsylvania that we joined them for long, Labor Day weekend in New York City. We took in so much of the City... It was John's first real visit to NYC. I had not been there since November of 2001 [WTC was still in rubble]. I experienced more in one weekend with Fred and Susan than I had in all of my previous trips combined.
Friday: Check-in, Central Station, Chrysler Building, St. Patrick's Cathedral, Rockefeller Center, Top of the Rock, Central Park, MOMA, Dinner, Times Square and the show "Come From Away" [the best musical I have ever been to]
Saturday: Museum Day- A lovely walk through Central Park to The Met, The Guggenheim [another FLW masterpiece], Dinner, Times Square and the show "Beautiful".
Sunday: Statue of Liberty, Ellis Island, World Trade Center Memorial, WTC Museum, and WTC Transit Center, an amazing meal at La Masseria, and then a late night cheesecake dessert at Juniors.
Monday: Walked the High Line, Chelsea Market, Stonewall, a "Heart of the Village Walking Food Tour", Washington Square Arch, shopping along Union Square and at ABC Home, Flatiron Building, and a walk by the Empire State Building on the way back to the hotel
Tuesday: Having averaged about 9 miles of walking per day, we were exhausted by the time we flew home.
Destination Wedding number 2 took us to Neenah Wisconsin for the nuptuals of our nephew, Jason Strachan, and his lovely new bride, Kelsey. John and I flew with his nervous mother, Barbara, to Appleton, Wisconsin. The outdoor wedding was beautiful and it was great to see the Strachan Family celebrating together.
Going to the Indiana State Fair is a tradition.
Unfortunately, it was a tradition that John and I had begun to grow tired of. However, this year we found ourselves at the Fair three times with new people and loved every minute of it! The first visit was to watch our niece, Claire, compete with her lambs. Our second visit was with friends, Mark and Brad- How did we eat that much? Third visit was with our dear friend (and my frequent travel companion from Florida) Susan to see a concert [apparently the bands were from the 60s, so I didn't know any of the music]. Of course we ate too much, saw too much, and had a blast. Because we walked so much, I still managed to lose weight that month.
Leonard Helfrich joined us for a lovely mid-week visit, so he and I decided to clear out a few older sections of my wine cellar. Our wine buying group is finding that the wines we accumulated in California over a decade ago are not holding up! What's better than opening bottle after bottle in pursuit of finding the perfect sip? Sharing it with a friend!
John spent a considerable amount of time in August in Fort Wayne, Indiana. He was assisting his parents, David and Becka, with the purging of their home in preparation for the final move to Florida. After decades of being in Fort Wayne, it took several weeks [months] to disperse the artwork, furniture, and memories to their children. John earned his second sainthood during this experience [the first sainthood was when he married me].
August also brought our niece, Claire, one step closer to Indianapolis. Feeling like her "gay dads", I fought back tears as John and I dropped her off for orientation at IUPUI; the best part was finding out that all the other students thought that John and I were her gay dads too! [she didn't correct them...]
We always appreciate how fireworks kick off the month of July; this year we watched them from multiple locations around the city. From the top floor of Riley Tower over to the rooftop deck of a Lockerbie Square client, we saw holiday cheer and sparkle.
July also kicked off the start of our "Year of Destination Weddings" with a quick drive out to Cape May, New Jersey. Laura and my cousin, Jill, were getting married on the beach. We wouldn't have missed it for the world- it meant so much to share that moment with them (and Aunt Sue).
It was too much driving for just one day, so we made a brief overnight stop in Pittsburgh on the way out to the wedding. John and I had not been to the city together, so I wanted to show him some of my favorite features of Pittsburgh. Our hotel, The Kimpton Brand's Hotel Monaco, was a fanciful exercise in design!
We decided to stop somewhere special on the way back from our wedding on the Jersey Shore. Despite the architect Frank Lloyd Wright [FLW] being a pompous ass, his design for Fallingwater is arguably one of the most impressive homes ever built in America; we decided to make the second half of our wedding trip a pilgrimage to visit Frank's masterpiece. Joined in Pennsylvania by our dear friends [and neighbors], Fred and Susan, we enjoyed the most amazing way to experience the designs of FLW- WE RENTED A FLW HOUSE. Sleeping, cooking, and entertaining in a 3-bedroom, 2 bath FLW house was amazing. We were able to study all 5 FLW homes in the area over the course of 3 days/2 nights from the comfort of the Blum House. The 130 acre Polymath Park is home to three FLW homes (Duncan House by FLW that was moved from Illinois and 2 original homes on the site designd by his apprentice). We even dined on the terrace of our house [overlooking the Blue Mountains] with a meal that was once served to FLW by the cook at Fallingwater.
All 5 homes were amazing, but the best part was actually seeing the reconstruction of the FLW Lindholm House that was saved from demolition and moved from Minnesota to Polymath Park! We walked the construction site and look forward to going back to see (and hopefully stay) at the new "old" house.
June. Is the year half-empty or half-full? I choose to see it as full.
Full of pride.
Full of family.
Full of festivals.
We kicked off June with a 95th birthday party for Grandma Collier. Full of vigor (or vinegar), this tiny little woman of 78 pounds has spawned 8 children and 88[?] grandchildren/great grandchildren. Despite my branch of the family tree not bearing any fruit, there will be Colliers for millenia to come.
Continuing June's full theme was a day full of festivals. We kicked off the day with Pride Festivities in Indianapolis. It began with a new parade route, festival location, and non-competition with the Talbot Street Art Fair (both always used to occur on the same weekend). The second festival of the day was a Latvian Festival with our son, Ross, and his new bride, Emi. John even joined Emi [a Latvian Dancer] on the dancefloor for a traditional dance! Finishing the day, we joined our Foodie Group friends for the Italian Festival.
John's parents joined us for the Talbot Street Art Fair- our traditional weekend with a house full of artists never ceases to entertain.
The end of June brought together my Mother's side of the family for the Myers Reunion.
For the first time ever, John and I used our timeshare in Mexico in the month of May. Considered "off season" we did not know what to expect. It was perfect. Joining us were Jeremy, Scott, Leonard, and Randy; the opportunity to get an "upgrade" to Grand Luxxe only made the trip even better! We were spoiled by food, wine, and accommodation. It was an amazing way to celebrate several birthdays at once.
May of 2017 also brought about the 70th birthday to my Father. I live in awe that my Dad seems ageless; he is a spry man that is in better health and acts younger than I am. My sisters and I threw Dad a big surprise party to celebrate the big milestone.
John loves presents. Who doesn't? April is his birthday month; although he doesn't celebrate the entire month like I do, he did get a pretty spectacular birthday dinner at the house. Surrounded by amazing friends, we shared a meal prepared in our kitchen by my favorite Indianapolis chef, Brad Gates. Our Foodie Group [the "original" New Jersey Street gang] continued our spectacular food traditions as well.
March started with a bang- literally. John accidentally knocked off a shelf in the pantry that housed a few of my vintage pixies from the 1959 Holt Howard Pixieware series. We lost Salty and Peppy that day. Tragic, yes. A lucky Ebay find allowed Salty 2 and Peppy 2 to join the family about a week later and assume their "previous" positions on the wall. I also gathered a few remaining pieces that had still been missing from my collection. If you happen to see a Pixieware little girl wall hook, let me know.
Yes, I had a glass of wine during lunch with my coworkers. It was my birthday. I'm the ides of March, so you all know to beware. As March wrapped up, my weight loss had also continued at a great pace; I was down about 25-30 pounds from where I started in November of 2016.
John and I also were able to see an amazing concert by Kaleo and the Illumineers in March... ...wow.